2019年はハローキティが誕生して45周年を迎えました。「2019年サンリオキャラクター大賞」では6年ぶりに1位に輝き、ハリウッドでも映画化されるなど、日本でそして世界で、多くのファンに愛されるハローキティ。そのハローキティの3代目デザイナー山口裕子さんに、輝き続けるキティの魅力をインタビュー!
Hello Kitty just celebrated her 45th birthday. Designer Yuko Yamaguchi told us about the charms of Hello Kitty, a character beloved by countless fans in Japan and around the world.
When I met, Kitty had only one clothes.
The first time I had a chance to meet Kitty as a designer was in 1980. In those days, Kitty had only one pair of overalls to wear, and I felt so sorry for her! Even though she was a girl, she couldn't wear anything glamorous! I wanted to dress her in cuter clothes! I wanted to give her lots of stylish dresses to wear! I wanted to create clothes for her that everyone would admire! From then on, I thought of many different designs and went on to rapidly make many clothes for Kitty.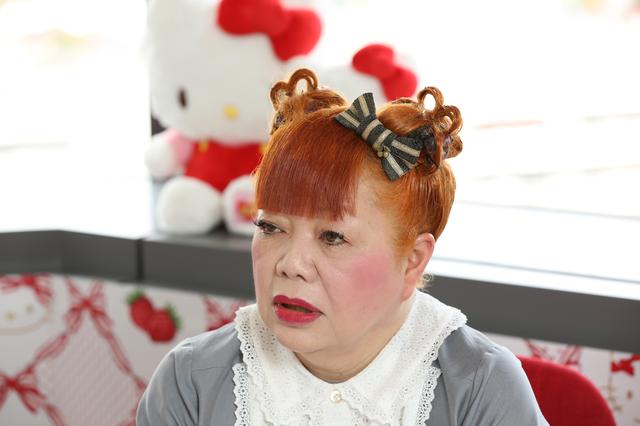 At first Kiki & Lara is more popular than Kitty
When I first met Kitty, she was like a friend to me. Because Kiki and Lala (Little Twin Stars) were more popular characters at Sanrio back then, I wanted to do something to improve Kitty's popularity. My efforts toward that goal would eventually transform Kitty into the most popular of the Sanrio characters. But when I talked to Kitty in those days she wouldn't respond at all…Every day I talked to her, but she never said anything in reply.
It was five years later when Kitty finally spoke to me. In 1985, Hello Kitty became the most popular Sanrio character. And then when I had finally achieved my long-held goal, Kitty praised me, saying "Well done, big sister!" Only Kitty said those words that no one else would. I remember feeling incredibly overjoyed. I think that Kitty felt as though I was her friend then, too.
Now that I have a lot of work I can get angry when I talk (laughs)
These days, I feel more like the manager of the talent agency where Kitty works than like her friend. Kitty is my number-one seller. But since I'm the boss, I also think about other characters. I rarely say much to Kitty now. I'm sure that if I spoke to her, she would just snap at me not to talk to her because she is too busy working (laughter), and perhaps she might angrily shout, "Hey, why did you give that job to My Melody?!" And at home, too, the only Kitty merchandise I have is a sleeping stuffed Kitty. When she's sleeping I can feel at ease that she won't talk to me (laughter).
Yuko Yamaguchi PROFILE
Yuko Yamaguchi became the third Hello Kitty designer in 1980. In 1985, she developed Hello Kitty into the top selling character at Sanrio, and in the 1990s she further propelled the character's evolution into a worldwide hit beloved by overseas celebrities such as Mariah Carey and Paris Hilton. She is currently the director and general manager of Sanrio Co., Ltd. She is originally from Kochi City, Kochi Prefecture.
Ms. Yamaguchi talks about attractiveness in interviews, such as why he was born in London in "New culture magazine for foreigners visiting Japan! Amazing! Japan" (all articles are written in English and Japanese).
Other Kitty's 45-year historical design is released once. The special feature of the unknown Hello Kitty, such as the introduction of the opened "Sanrio Gift Gate Asakusa Store" and limited edition goods! Please take a look.